Smoking and other use of tobacco is dangerous to not only your overall health, but to your teeth and gums. Our dentist and team at Naples Family Dentist provide smoking cessation support to help you stop smoking, regain control of your addiction and lifestyle, and improve your oral and overall health. If you are interested in quitting smoking, we encourage you to call us at 239-566-7737 to learn about our smoking cessation support program in Naples, Florida, and to set up your appointment with Dr. Paul Mabe.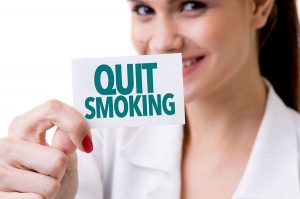 Smoking and tobacco usage causes your gums and underlying bone structure to slowly deteriorate, eventually leading to tooth loss. It also slows the healing process, reduces your sense of smell and taste, and causes stains and discolorations on your teeth and dental restorations. Perhaps most importantly, smoking and tobacco usage greatly increases your risk of developing periodontal disease, oral cancer, or other harmful conditions. In fact, smoking makes it six times more likely that you will develop periodontal disease, and four times more likely that you will develop oral cancer.
Tobacco products are addictive, and we know that it can be very difficult to quit. You may need to try multiple times before you succeed in quitting. Do not be discouraged if you experience difficulty. There are many methods and resources available to help you quit smoking. Some individuals are able to stop abruptly, while others benefit from small steps, counseling, and medication. Our caring dentist and team are here to help you throughout this entire process, and will assist you in developing a smoking cessation plan, and in finding resources for your use.
To schedule a consultation with our dentist and to find out more about smoking cessation support, please contact our office today.