Naples Family Dentist offers implant dentistry in Naples, Florida, to replace your missing teeth and restore your smile. Dr. Paul Mabe has more than 28 years of experience in helping people chew comfortably and smile confidently! Our Zirconium implants are tooth-colored and metal-free, and utilize the latest technologies to ensure the highest quality of treatment. Please use the links below to learn more about our implant services:
We invite you to call us today at 239-566-7737 to schedule your consultation with our experienced dentist and to find out how implant dentistry can improve your smile and your quality of life.
You Can Restore Your Smile With Zirconium Dental Implants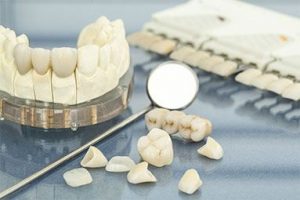 Dental implants are prosthetic teeth. They are specially designed to replace both the root and the crown of your tooth to give you a long-lasting solution for your smile. Dental implants are designed to look, feel, and function just like your natural teeth, and aid in maintaining your facial contours as well as restoring your smile. Your implant consists of two main parts – an implant post and an implant restoration.
The implant post is typically made of titanium, and is surgically placed in your jawbone. At Naples Family Dentist, we also offer Zirconium implants as an alternative for patients with greater sensitivity or who have a metal allergy. Zirconium implant posts are tooth-colored, biocompatible, and promote exceptional osseointegration with a precise connection between the implant and the crown. Zirconium implants are the 100% metal free solution for patients looking for a natural reconstruction in terms of aesthetics, tolerability, and longevity. The are strong, safe, corrosion resistant, and do not conduct heat or electricity.
After the post has integrated with your jawbone, it serves as a stable platform for your replacement tooth, and mimics the function of your tooth root. The implant stimulates your supporting bone tissue to ensure that your implant remains stable within your mouth. You may need to receive a bone graft prior to your implant placement, in order to ensure that the implant post will remain stable.
The implant restoration is the replacement tooth that caps your implant post. After you have healed from your implant placement surgery, our dentist will discuss your options with you and work with you to determine which type of restoration will be most suitable for you. Your restoration may be a crown, a bridge, or a denture, depending on your individual needs.
As dental implants are intended to be permanent restorations, you can care for them just as you would your original teeth. This includes daily brushing and flossing, and regular dental visit to receive professional preventive care. We strongly encourage you to practice good oral hygiene at home, and to keep all your dental appointments, as your implant can fail without the proper care.
Who is a candidate for dental implants?
Anyone who has lost teeth is a candidate for dental implants. You can receive an implant as long as your teeth and gums are healthy. If you have tooth decay, gum disease, or another harmful oral condition, you will need to receive treatment for that condition prior to receiving a dental implant.
FREE Implant Consultation & Second Opinions  
Dr. Paul Mabe offers complimentary consultations and second opinions to anyone considering implant dentistry to replace and restore their teeth. Give us a call at 239-566-7737 to schedule your free consultation and find out if Zirconium implants are the right option for you!
What do dental implants cost?
The cost of your treatment will depend on several factors – how many dental implants you are receiving, any treatments that you must receive prior to getting a dental implant, and your current oral health. We will provide you with an estimate of your treatment cost after your initial consultation with Dr. Paul Mabe.
Our dentist and team at Naples Family Dentist are dedicated to providing you with quality treatments at fair and affordable prices. We offer 0% financing through CareCredit for up to 12 months interest free. Other options are available through CareCredit for extended time. Please visit our Financial Options page, or contact our office at 239-566-7737 for more information.
Same Day Emergency Treatment Available 
Dr. Paul Mabe and our team provide same day emergency treatment. If you have unexpectedly lost a tooth or if the restoration atop your implant breaks, or if you experience any other type of dental emergency, please contact our office at 239-566-7737 and we will make arrangements to meet with you and provide treatment as quickly as possible.
If you have any questions about implant dentistry, please call or visit our office. We will be happy to provide you with additional information and to help you schedule your consultation with our dentist.