Dr. Paul Mabe provides dental implants to replace individual teeth as well as entire dental arches. A dental implant restores your smile and works to improve your overall health and quality of life.
We offer two types of implants.
Titanium and Zirconia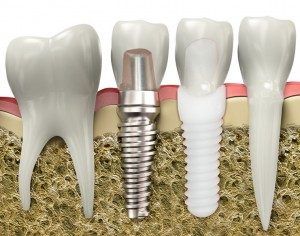 1. Titanium Implants: Titanium is a strong, yet light weight metal that easily fuses with surrounding bone and is the same type of bio-compatible material that is used with joint replacements in knees, hips and shoulders. Titanium has been the metal of choice for several decades and has routinely shown 95% success rate in healthy patients.
For patients with a metal allergy or sensitivity:
2. Zirconia Implants: Zirconia implants are best known for their likeness to diamonds or crystals. The crystal material is altered slightly for its use in dentistry to give it a tooth colored esthetically pleasing look. Zirconia is very strong and bio-compatible in the mouth. Zirconia is a great option for patients who have metal allergies or sensitivity to metals including nickel alloy.
Dr. Mabe is one of the few dentists in the area who offers an alternative to metal implants.
Utilizing our precise digital films and our in-house state of the art 3D CBCT scan, Dr. Mabe can determine the best situation for the precise placement of your implants so that you can get your smile back and chew the foods you love again.
To learn more about how you can benefit from a single-tooth dental implant in Naples, Florida, and to set up your appointment with our skilled dentist, please call Naples Family Dentist today at 239-566-7737.