No More Dentures!
If you need to replace a full arch of teeth, Dr. Paul Mabe can provide you with Teeth in a Day implant supported dentures or bridges right here in Naples, Florida. Implant supported dentures and bridges rely on one or more implants to permanently anchor your replacement teeth and give you back your beautiful smile. To schedule your free consultation with our skilled dentist, and to learn more about Teeth in a Day implant supported dentures and bridges, please call Naples Family Dentist today at 239-566-7737.

Permanent Solutions for your smile!
Implant-supported dentures and bridges have revolutionized tooth replacement. In the past, your options for replacing an entire arch of teeth were limited to conventional dentures.
Teeth in a Day implant supported dentures and bridges use one or more strategically placed implants to secure your teeth.  If you receive a bridge, you may need only one or two implants to secure your restoration. Your implant supported denture may require 4 or more implants to secure. The implant placement process as a whole is less invasive, and has a faster recovery time. In many cases, you may leave our office with a smile as soon as your procedure is complete.
Initial Consultation
When you visit Naples Family Dentist for your initial consultation, Dr. Mabe will carefully examine your entire mouth to determine if you will require tooth extractions or other procedures before your implants can be placed. A CONE BEAM CT, Digital X-rays, impressions, and photos will be taken as needed. We will then schedule your implant placement surgery.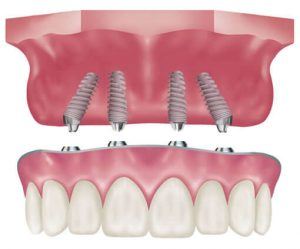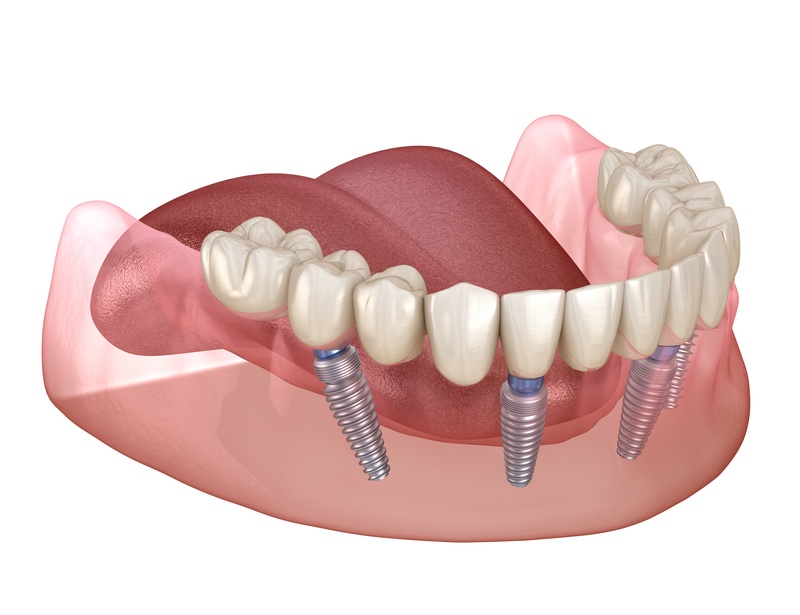 Benefits of Implant Supported Dentures:
1. Using nanotechnology our implant supported dentures and bridges are stronger than natural teeth.
2. Upper dentures are palateless – allowing you to begin to taste and enjoy your foods again!
3. The look and feel of the teeth that we use is so natural you will forget that these teeth are not your own!
4. They are easy to care for and clean.
5. This is a permanent smile solution that will never have to be removed!
6. You will look and feel years younger!
7. Easy to talk with because they feel like your very own teeth.
8. There is no slippage because they are permanently attached.
During your implant placement procedure, Dr. Mabe will:
Strategically place the implant posts in your jawbone
Attach abutments so that the replacement teeth can be fastened and adjusted for the best function and comfort
Place your new teeth atop the implants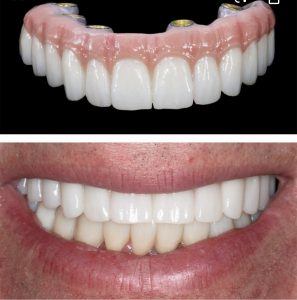 Our New Zirconia Prosthetics are the strongest materials in the industry! Take a look at the Hammer Test Video!
If you have any questions about Teeth in a Day implant supported dentures or bridges, please feel free to contact our office. We will be happy to provide you with additional information and help you set up your complimentary Teeth in a Day consultation with Dr. Paul Mabe.
Financing 
We have many financial options available that we would be happy to discuss with you. 0% financing is available through CareCredit and GreenSky Patient Solutions for up to 12 months. Other options are also available through CareCredit and GreenSky Patient Solutions for extended time.
Interest free for up to 12 months
Patients may quality for up to $20,000 in credit financing through CareCredit
You may complete your online application here with CareCredit:
Get your smile back today with implant supported dentures so that you can:
Smile with confidence
Enjoy palateless upper teeth (the roof of your mouth will remain open)
Taste food again
Feel secure in a firm fitting set of teeth that do not move or shift
Enjoy eating all of your favorite foods – nothing will be trapped in your appliance and you will have more biting strength than you did you with removable dentures
Enjoy your new smile as your facial muscle tone will be restored as well
We are proud to offer the latest technology available to get your smile back in a day and help you begin to enjoy a high quality of life once more.
Schedule your free consultation with Dr. Paul Mabe today so that we can help you achieve the smile of your dreams!
We will have you saying "Got My Smile Back!" along with thousands of patients in our dental family who have trusted Dr. Paul Mabe with their smiles for the past 30 years!