Gingival grafting is a very common periodontal procedure. Periodontal tissue grafting surgery is beneficial when recession of the gum tissue occurs. Recession often results in root sensitivity, the appearance of elongated (or long) roots and poor tissue health which could ultimately lead to tooth loss.
When the root of a tooth becomes exposed, eating or drinking hot and cold foods can cause sensitivity to the teeth. Grafting procedures cover the exposed root, reduce discomfort and restores the health of the gums, preventing further problems and protecting exposed roots from further decay.
Dr. Paul Mabe performs the tissue grafting surgery under a local anesthetic. A small incision is made near the root of the tooth to create a small pocket to accommodate the tissue graft. The graft is inserted and sutures are placed to stabilize the graft and prevent any shifting from the surgical area. Uniformity and healing of the gums will be achieved in approximately six weeks.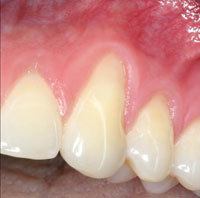 If you are interested in more information regarding periodontal tissue grafting, please give Naples Family Dentist a call at 239-566-7737. We would be happy to talk with you further about periodontal tissue grafting in Naples, Florida, the treatment options that are available, and help you schedule a consultation with our experienced dentist.